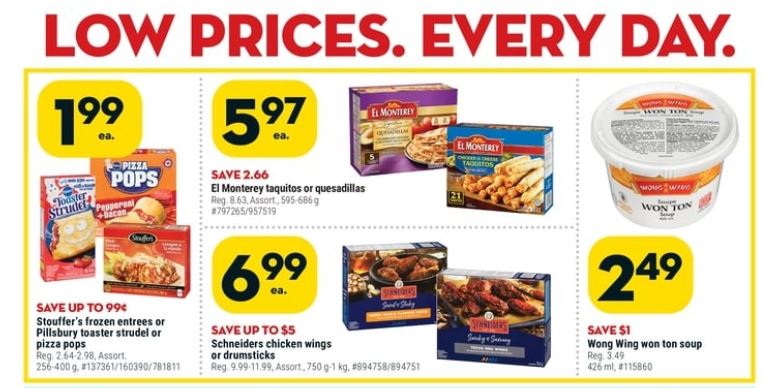 A new Giant Tiger Canada flyer starts today, so if you are in need of some essential items and wold rather not wait until other store flyers kick in tomorrow, Giant Tiger is certainly another option. Here are some of the highlights from the flyer valid the week of March the 25th to the 31st:
Belmont Burgers $5.97 (limit 3, and I actually bought these quite often last summer, so if you are unsure, they are actually pretty good)
Schneiders Pot Pies $2.49 (limit 4)
Swift or Maple Leaf Canned Ham $3.87
2 Pack Green Peppers or 4 Pack Hot House Tomatoes $1.97
Franco American Canned Gravy .67
Dole Caesar Kit, Jumbo Cantaloupe, or Litehouse Dips $2.47
Country Harvest or Rubschlager Bread $1.97
Knorr Sidekicks .99
Post Cereal $1.99 (limit 4)
Springers Black Forest Ham $7.97
Boursin $3.88
3 Pack Palmolive Dish Soap $5
Stouffer's Frozen Entrees or Pillsbury Toaster Strudel or Pizza Pops $1.99
Christie Crackers $1.99
VH Sauce $1.99
Planters Peanut Butter $3.97
Tenderflake Lard or Crisco Shortening $2.27
Little Debbie Snack Cakes or Quaker Bars $1.88
Don't forget that you can also join the GT ViP Club in order to get member only prices on select items, and you can see the flyer for the items you can save on this week should you join.
Click here to view the Giant Tiger Canada flyer on our forum.