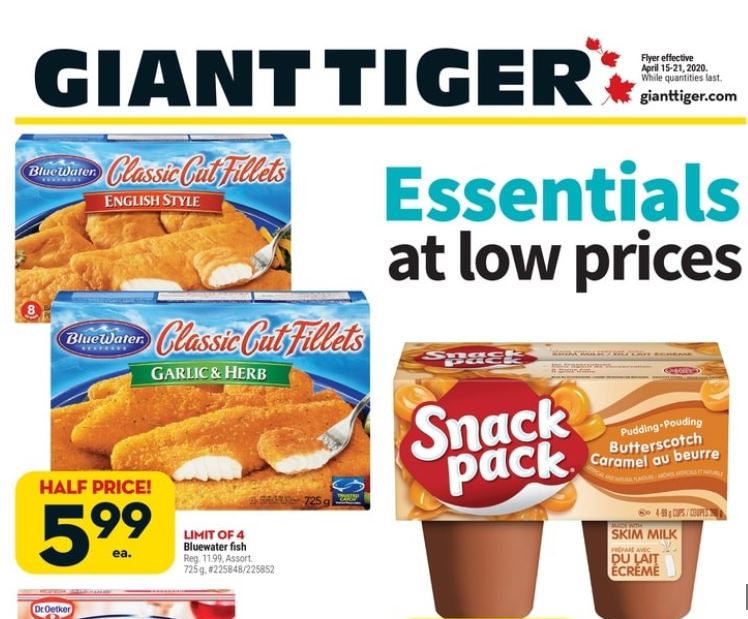 A new Giant Tiger Canada flyer has started today and will run until the 21st of April. If you are in need of some essentials and great prices and don't want to wait until other store flyers start tomorrow, then you might consider heading to Giant Tiger. Here are some of the advertised items for this week:
Bluewater Fish 725g $5.99
Hunt's Snack Pack .88
Lay's Stax 3/$4
Kraft Mayo or Miracle Whip $2.97
Swanson Frozen Dinners $1.88
Tassimo Coffee Pods $4.88
Tomatoes On The Vine $1.97/lb
3pk Romaine Hearts $2.88
Litehouse Dressing $2.88
Wonder Hot Dog or Hamburger Buns $1.97
Beatrice Chocolate Milk 1L .99
Idahoan Potatoes .99
Belmont Burgers $7.97
Weston Ridge Chicken $6.99
Iogo Yogurt Tubs or Nano $1.99
Giant Value Bagels or English Muffins .99
Campbell's Chunky Soup $1.97
Giant Value Tuna .99
Aurora Olive Oil $4.47
Tim Hortons Chili $2.79
Many advertised items do have limits at Giant Tiger, but this is always the case. For additional savings you can join the GT VIP program which will give member pricing on select items each week.
Click here to view the latest Giant Tiger Canada flyer.