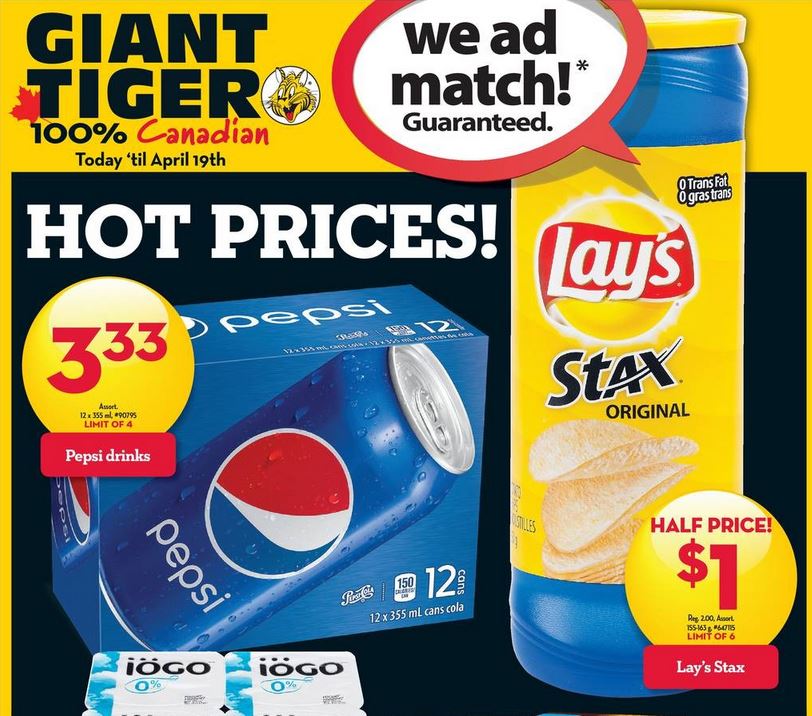 The latest Giant Tiger flyer is available and it includes some good deals with no coupons required!
Maple Leaf original weiners are on sale for just $2 per pack.  With the warmer weather, it is a good time to stock up for barbecue season and you can use your coupon for a free pack of Prime Stuffed Chicken or Ready Crisp bacon when you buy three packs of weiners.
Blocks of Lactantia cream cheese are only $1.49 each which is the lowest they have sold in a while and great if you do not have access to the Philadelphia coupons available recently.
Giant Value frozen meatballs are just $7 this week, already a low price but they have sold for $5-6 over the past year.  However, if you shop soon, you can access a $2 coupgon coupon in the app for $2 off the price of these meatballs and pick up a bag for just $5.
Other deals include
Pepsi 12 packs $3.33
Lay's Stax $1
Iogo 4pks $1
General Mills family size cereals $3.97
Trophy nuts $3.47
Click here to see the entire flyer