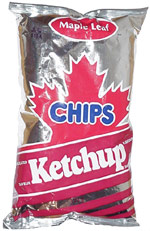 Most of our dietary intake is made up of common North American cuisine – vegetables, pasta, Hot Pockets – the list goes on and on. But some of the things on our menu are distinctly Canadian. Great Canadian Foods is a new weekly feature on SmartCanucks exploring the tastier side of Canadian living.
While it's still a fairly new column, I'd like to think that "Great Canadian Foods" has a bit of structure.  We talk a little bit about what the food is, where it came from, and great ways to find/prepare it.
Ketchup chips has none of that.
Everyone knows what they are, nobody seems to know where they came from, and you can find them in every corner store in the country. What makes ketchup chips so special is one unsolvable question: why are we the only ones who love them?
Evidence of the ketchup chip in Canada (or at least the evidence we could find) dates back as far as 1967.  While that may not be as historical as some Canadian foods, it's still a treat that dates back generations.  And it's well-loved, too.  Old Dutch says it's one of their top two most popular flavors (the other is Salt & Vinegar.)  Even Seth Rogan sang it's praises on Jimmy Kimmel a few years back. But in America? You can't GIVE these things away.
A number of leading US chip manufacturers have tried to offer this delicious ketchup treat, and every time they fall flat on their face.  A few smaller US snack companies produce them, but the average American consumer is going to have to special order/go on a manhunt if they ever want to taste it's deliciousness without travelling across the border.
Do you have any thoughts on this mystery?  Why do Americans have no interest in our most-beloved potato chip flavour?  And when was the last time you bit into a tasty ketchup chip?