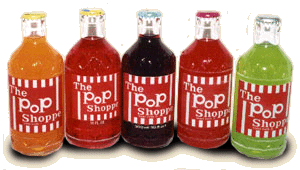 Nothing beats the taste of a great Canadian soda, and there weren't any greater than The Pop Shoppe. Starting in London Ontario 1969, The Pop Shoppe let consumers buy their soda directly from their distribution outlets, bypassing the typical retail route and passing the savings on to the customer. It sounds crazy, but it worked — within three years they'd expanded to over 500 stores and eventually branched out into the states. People were mixing and matching cases and returning refillable bottles all over the country.
The good times couldn't last forever though, and despite having some of the best tasting soda on the market (and a big time spokesperson like hockey legend Eddie Shack!) the company folded in 1983. The general consensus is that the business was killed by a combination of store-brand sodas entering the marketplace in major grocery chains and Coca-Cola's introduction of a diet cola.
In 2004 The Pop Shoppe made a quiet return. Store shelves in small convenience stores were being stocked with Black Cherry and Lime Ricky Pop Shoppe bottles for the first time — and they were just as good as ever. In the four years since, the product has successfully rolled out into much larger availability, with select Zellers stores featuring the product and the 7-11 Food Store chain recently signing on to carry it in all of it's Ontario locations.
Have you had your Pop Shoppe lately?