Harvey's Canada can fill up your entire family, all for under $20, which 10 years ago may have been the norm, but nowadays seems to be virtually impossible. For those nights when you can't bear to cook over the stovetop, this coupon from Harvey's may be just the kind of deal that you'd like to use as it feeds four for under $20, at just $18.99.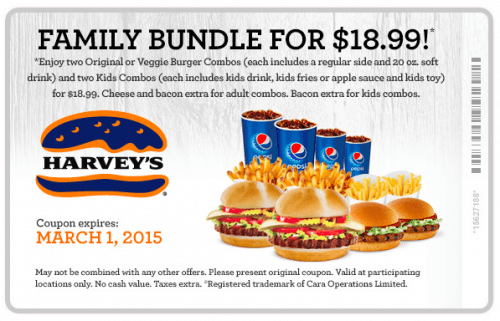 The coupon can be shown by either print out or smart phone and, of course, cannot be used in combination with any other offers going on at Harvey's. When you use the coupon, you will be given the choice between getting 2 of the Original or Veggie burger combos (which will come with a regular side and a 20 oz. drink) and you will also get 2 Kids Combos (which will include a kid size drink and order of either fries or apple sauce, plus the toy).
Bacon and cheese for the adult Harvey's combos will be extra, while just adding bacon to the kids combos will cost extra.
This coupon expires on March 1st, 2015.
Click here to print out your Harvey's Family Bundle Coupon.