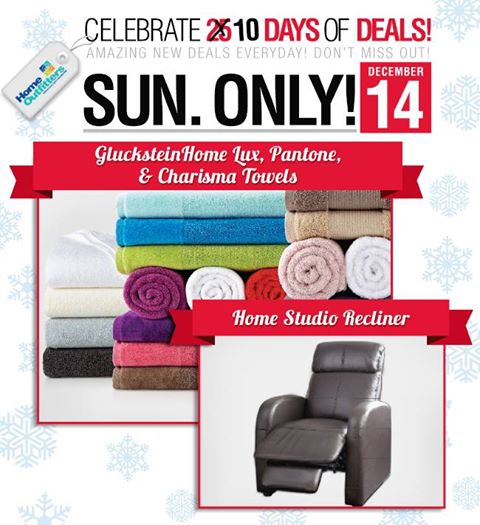 Home Outfitters Canada has launched a new "Daily Deal Reveal" on their Facebook Page!
They have announced their one day only offer that will be valid on Sunday December 14th, 2014. So head into your local Home Outfitters Canada store on Sunday and you can enjoy the following daily deals for the Holiday Season:
Save 60% off Gluckstein Home Lux, Pantone, and Charisma Towels
Save 50% off of the home Studio Recliner
This Home Studio Recliner looks perfect for watching movies with a bowl of popcorn! Growing up, my parents each had their own designated chair in the living room. Looking at this, I kind of want one of my own!
On the less expensive side, the towels on sale also look great. There is a wide variety of colours and options available to match whatever decor direction you decided to go with for your bathroom. I personally have Gluckstein Home towels and they have lasted well. The colour has faded a little bit, but I have had them for quite some time.
Click here to check out this Home Outfitters Canada Daily Deal Reveal.