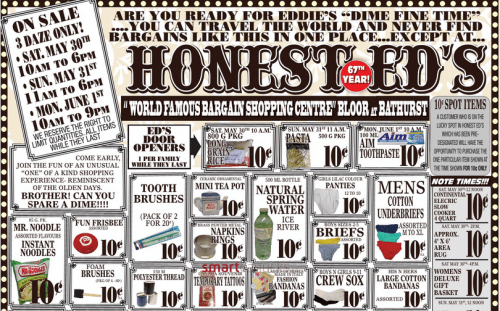 Honest Ed's has a $0.10 flyer ending tomorrow, Monday 1st June.  If you live in Toronto, they have lots of 10 cent deals worth checking out, many do not show a brand name, but there are a few that can be price-matched if you have a Walmart store with a more relaxed price-match policy.
Aim toothpaste $0.10 (reg $0.96 at Walmart)
Mr Noodles 85g packs $0.10 (reg $0.27 at Walmart)
Post-It Notes 3×3″ pack of 6 for $0.60 ($0.10 per set)
If you are near Honest Ed's, stop by tomorrow at 6pm.  They will be selling a $50 gift card to a lucky shopper for just $0.10.
Click here to view the flyer or here for a large pdf copy to see the details listed on the Post-It Notes ad.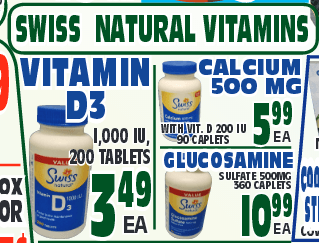 The regular flyer for Honest Ed's also has some good deals on Swiss Naturals.
Swiss Naturals Vitamin D3 (200) $3.49
Swiss Naturals Calcium 500mg with Vitamin D (90s) $5.99
Swiss Naturals Glucosamine Sulfate 500mg (360s) $10.99 – these are $16.68 at Walmart
Click here for the regular Honest Ed's flyer ending June 6.