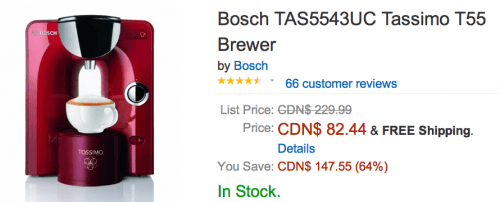 Amazon Canada has a new promotion going on where you can save 64% on the Brewer Bosch Tassimo T55 originally $229.99 on sale for $82.44 & free shipping! Wow – this is such a great deal especially if you're a student heading off to school soon. Instead of waiting 5 minutes while your coffee maker brews in the morning or spending $2.50 every morning at Starbucks – you can make your own coffee in under a minute (not even)!
I've noticed that K-Cups for the Keurig's are much more expensive than the Tassimo coffee/ tea pods, which is definitely a bonus because it will save you money in the long run! Also, I just read online that TASSIMO systems are the only brewers with barcode technology – cool!
Fully automatic one-button operation
Removable 1.4 litre water tank
MAVEA filters reduce limescale and chlorine
Strong/Mild Feature
Out of 66 reviews, this system received an average of 4.5/5 stars. One reviewer noted, "Easy to set up, easy to use, love the colour!! We were very sad when our original tassimo died, this one is a great replacement! Smaller and more user friendly, like that it comes with a cleaning disc. Love this Tassimo!
Offers expiry date is not indicated. If you're a student getting this for school – Amazon has a two day free shipping for university students!
Click here to get the Tassimo on sale at Amazon Canada
Also,