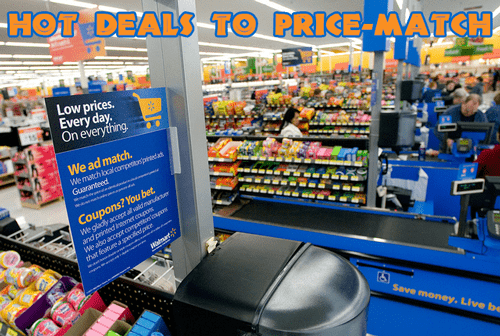 Here are some of the freebies you can get by price-matching and using coupons this week.  Some of the flyers end earlier than others, so make sure you check the end date before shopping.  These are mostly smaller stores that not every store will price-match unless you are in their local area, so check with your store to find their exact price-match policy.
Supermarche PA: Kraft Banana Peanut Butter $1 (ends tomorrow)
FreshCo: Dempster Whole Grains bread 600g $1.99-$2 coupon=Free
Gateway: 5lb bag carrots $0.27
EZ Fresh: Allen's juice 8x200ml $1
Food 4 Less (Chatham): Kashi puffed grains/honey puffed grains cereals 185g $1 – $2 coupon =Free
Skyland: Lunchmates $1 – $1 coupon = Free
Best Value: Redpath sugar 2kg $0.98
Marche C&T: Maple Leaf Deli Fresh roast beef 175g $0.99
Box by No Frills:4L Nelison milk 2% $3.65
Food Island: Cavendish hash brown potatoes 750g $.99-$1 coupon=Free
Mourelatos: Kraft Philly cream cheese garlic herb $1
Sals: Heinz Relish 375g $0.49
Value Drug Mart: Reach toothbrush $1.05-$1=$.05each
Again, price-matching policies for these stores will vary.  Some will not price-match per pound deals if they sell them by units etc, so check with customer service before shopping to save time at the cash.
Click here to see our discussion thread on price-matching deals