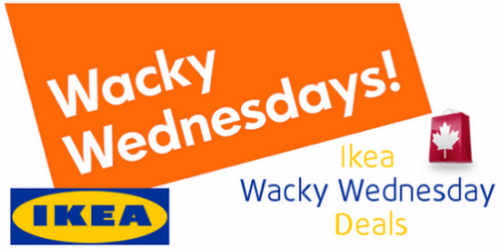 Here are your IKEA deals for this Wednesday, April 30th.
IKEA Burlington: Pjatteryd Picture 3pk $9.99 (reg $19.99)
IKEA Burlington: PS2012 TV Bench in yellow $99 (reg $199)
IKEA Calgary: Lovberget Shelf $1.99 (reg $9.99)
IKEA Calgary: Tuve Floor Lamp $24.99 (reg $59.99)
IKEA Edmonton: Sultan Florvag Mattress (twin) $49 (reg $99)
IKEA Edmonton: Ungdom Mug $2.49 (reg $4.99)
IKEA Edmonton: Eivor Cushion$5.99 (reg $12.99)
IKEA North York: Karlstad Cushion $7.99 (reg $34.99)
IKEA Ottawa: Orrberg TV Bench $149.99 (reg $299)
IKEA Vaughan: Trendig 2013 Glass Set $3.99 (reg $6.99)
IKEA Winnipeg: select Billy Bookcases 25% off
The other stores do not have Wacky Wednesday deals listed.  As always, these deals are often available in limited quantities o shop early if you really want one of these deals.