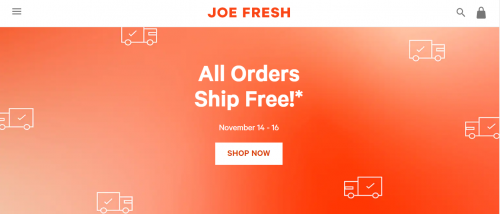 From November the 14th to the 16th, all orders ship free from Joe Fresh Canada! You are able to earn and redeem PC Optimum points when shopping Joe Fresh online, so check your PC Optimum account as you could possibly have a spend offer for Joe Fresh and earn bonus PC Optimum points on your order as well.
If you scroll to the bottom of the page through the link, you can sign up through the Joe Fresh newsletter and receive a code for 20$ off your next online purchase. One code that you might want to try if you do shop Joe Fresh online is SASHA25. This code is normally active, and I find it works on most items.
If you are looking for gift ideas, Joe Fresh has a Disney collection for the whole family at the moment, and they also have a selection of Marvel clothing.
Click here to shop Joe Fresh Canada online and enjoy free shipping until November the 16th.