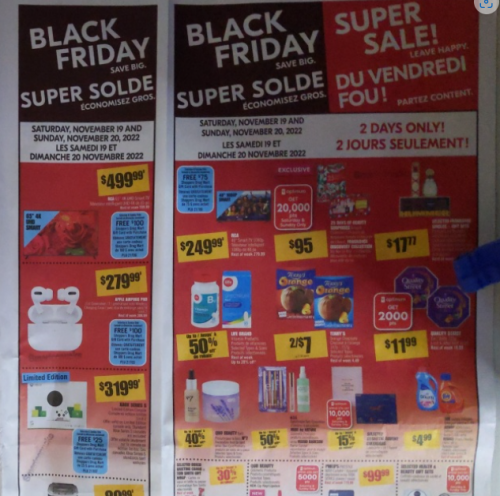 Shoppers Drug Mart Canada has a Black Friday Super Sale happening this weekend, November the 19th & 20th. There are great deals on electronics, fragrances, holiday confections, toys, gift sets, and more! Take a look at the full flyer by clicking the link below.
There is also an in-store offer for cosmetics this week, earning you 20x the PC Optimum points when you spend $75 or more in that department.
As always, a two-day sale is also in effect this weekend, and includes the following items:
Ultimate Dining Gift Card 25,000 PC Optimum points (I can't make out the details of this one, so I'm not sure what value you would need to purchase)
Colgate Toothpaste .88
Kraft Peanut Butter $4.99
Tostitos or Ruffles 2/$6
Christie Cookies or Crackers 2/$5
Coke or Pepsi 6pk $3.49
Energizer Batteries $4.99
Old Spice Body Wash $4.49
Nivea Body Wash or Dove Bar Soap $2.99
Febreeze and Cascade Products up to 40% off
6pk No Name or PC Facial Tissue $4.99
Royale Bathroom Tissue $5.99
Kellogg's or Post Cereal $3.49
Neilson Chocolate Milk 2/$3
No Name Eggs $3.29
PC Bacon $5.99
PC Pub Style Chicken $5.99
Stouffer's or Lean Cuisine Entrees $2.99
No Name Butter $4.69
Click here to view the upcoming flyer on our forum.