Hurry in now to Kate Spade Canada online and you can take part in their surprise Black Friday edition sale, where bags and accessories are marked down up to 75% off – which for a luxury brand like Kate Spade, can make quite the difference in price. To enter the sale you must give your e-mail address and postal code, however if you're like me, you could use an e-mail that you use exclusively for when you're shopping to you don't have to worry about getting spammed.
The sale is only on until November 29th, 2014 and will also include free-shipping on all orders that are above $200, below this price your order will cost a flat fee of $10 to ship within Canada or if you're shipping to the United States, $5.
Kate Spade is a trendy, youthful brand that has a wide selection of purses and wallets to choose from in this sale, but be certain that you are 100% in love with your purchase as the sale is final (no returns or exchanges!)
The above picture of the Charlotte Street Sloan is one of the better finds in this deal, as not only is this structured bag only $179 (regularly $458), but it also has the option to be worn as a cross-body or handheld bag as it features a 15″-18″ adjustable strap.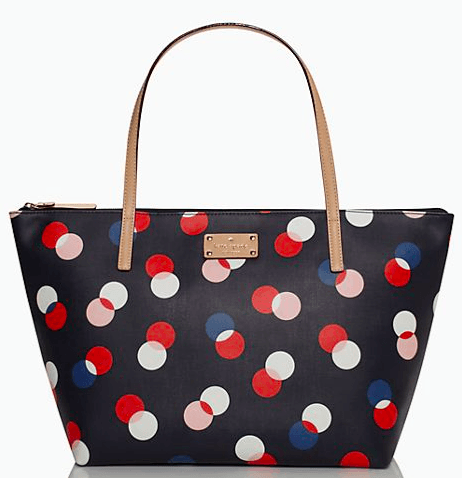 Browse through the sale at Kate Spade online and you're guaranteed to find a nice tote for work or even an update on your old wallet.