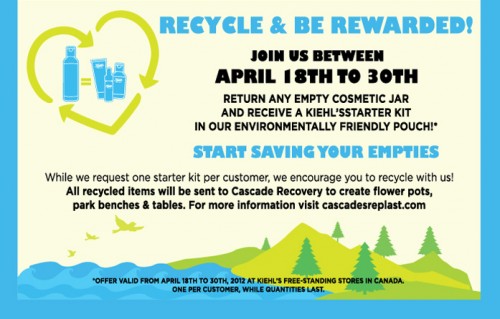 *bumping since event starts tomorrow*
From Wednesday, April 18th – Monday, April 30th, Recycle & Be Rewarded at any Kiehl's free-standing store! When you bring in any empty cosmetic jar, you will receive a Kiehl's Starter Kit in their environmentally friendly pouch.
All empties will be donated to Cascades Recovery to create flower pots, park benches, & tables. 🙂
I have been anticipating the return of this event for a year by saving my empties! I wonder if empty lip balm pots count? 😉 I'm thinking of even emptying some containers with products that I no longer use to give to family/friends so that they can participate in this event!
Anyway, as per usual, it seems as though the American version of this event is better in that your reward is BIGGER depending on the number of empties you bring in. If you bring in up to 10 empties, it entitles you to a free full-sized product…up to a $25 value! Can you believe it?
You have a little over a week to collect those empties! Click here to locate a Kiehl's near you. Remember, this promo is only valid at a free-standing store.