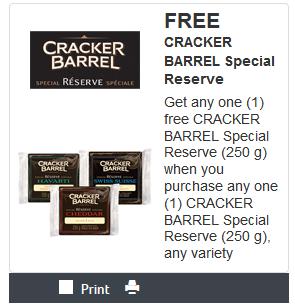 The Kraft Canada coupon portal is a great place to find printable coupons for your favourite Kraft products, and sometimes even high value ones, such as this new coupon. Purchase one Cracker Barrel Special Reserve Cheese 25og, and get one free with this coupon.
To access the coupon, you will have to be signed in to your Kraft Canada account, so if you do not have an account please take a moment to register. There is a limit of one print of the coupon per account. If you are entertaining this holiday season then cheese is a must, and you can pick up a couple of these products for the cost of one! This cheese is available in three varieties: 1 year old cheddar, swiss, and havarti.
Click here to print your buy one get one free Cracker Barrel Special Reserve cheese coupon through the Kraft Canada coupon portal.