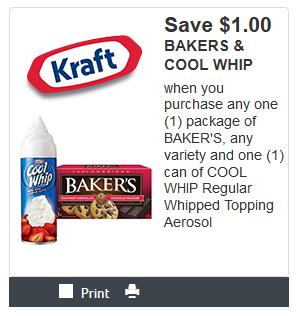 The Kraft Canada What's Cooking printable coupon portal, with coupons available through WebSaver, has been updated and somewhat revamped, and currently has a couple of new coupons available. The following two new coupons can now be printed:
Save $1 when you purchase any one package of Baker's chocolate, any variety, and one can of Cool Whip regular aerosol whipped topping aerosol
Save $2 when you purchase any one Nabob Tassimo or Nabob Keurig compatible pods
You must first sign in to your account in order to access the coupons. There are a few other great coupons that are still available that you may have not had the chance to print while the Kraft site was down for several days. The coupon for $2 off the purchase of 430g Philadelphia Cream Cheese in the Jalapeno or Chocolate variety is an awesome coupon considering these products often go on sale for $3.
Click here to print your coupons through the Kraft Canada What's Cooking coupon portal.