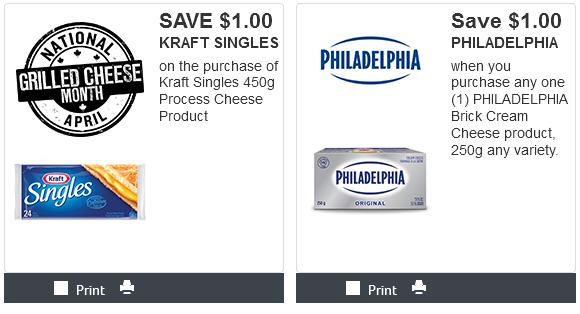 Yesterday we told you about the new coupon for Kraft Singles available through the Kraft Canada What's Cooking coupon portal, in honour of National Grilled Cheese month. A couple of more coupons for Kraft cheese products have just been added, so you can now head over and print them all.
The coupon for $1 off the purchase of any one Philadelphia Brick Cream Cheese product is available again. I just used up a few of the ones that were previously available yesterday, as they expire today. There is also a coupon available for $1 off the purchase of new Philadelphia Creamy Cheddar. This coupon is also available through WebSaver so this will allow you to print another one of these coupons.
You must have an account at Kraft What's Cooking and sign in in order to view and print the coupons.
Click here to get your coupons for these Kraft cheese products through the Kraft Canada printable coupon portal.