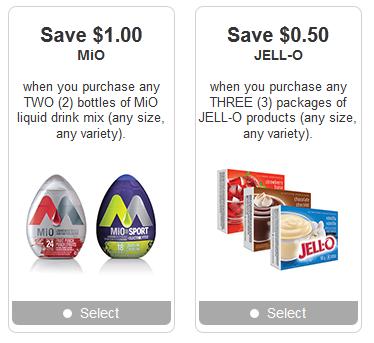 There are a few new coupons available from the Kraft Canada What's Cooking website this evening, and fortunately, these coupons are not store specific and can be used anywhere. You may remember that recently some coupons were added that were for use exclusively at Metro and Overwaitea. Thankfully there are no such restrictions on these latest coupons.
Once you access your account, you will see that the following new printable coupons have been added:
Save $1 when you purchase two bottles of MiO liquid drink mix (any size, any variety)
Save 50 cents when you purchase any three packages of Jell-O products
Save 75 cents when you purchase any two packages of Shake N' Bake coating mix
You may print one of each coupon per account, and two per computer. So if you have a family member in the same household with an account, you should each be able to print one coupon.
Click here to print your coupons for these Kraft products.