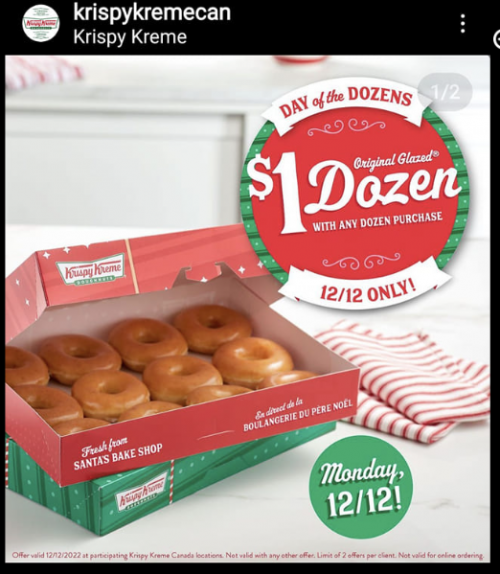 In honour of 12/12 coming up this Monday, December the 12th, Krispy Kreme Canada wants to celebrate with this offer of a couple of dozen donuts! This Monday 12/12, purchase any dozen donuts from Krispy Kreme Canada and get one dozen Original Glazed donuts for just $1.
This "Day of Dozens" offer is limited to two per client at participating Krispy Kreme Canada locations. The offer is not valid for online ordering. If you are wondering where there are Krispy Kreme location currently in Canada, there are stores in Ontario, Quebec, and BC.  You can click the link below to find a location near you.
There are also some holiday flavours you might not want to miss out on trying if you head to Krispy Kreme. Choose from cream cheese filled Gingerbread Cookie Crumb, Kreme filled Santa Belly, Red Velvet Cake with cream cheese icing, and Holiday Sugar Cookie with sugar cookie icing.
Click here to find a Krispy Kreme Canada location near you.