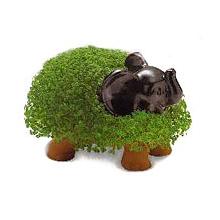 [We're in the last week before Christmas, and everyday until that very last minute we here at SmartCanucks will be bringing you some great but obscure gift ideas for that special someone]
Nothing says I love you like "Ch-ch-ch-Chia!" Chia-Pets, the Clapper, the Ove Glove – anything bought to you by Joseph Enterprises is a worthwhile gift. This close to Christmas, ordering online probably won't do you a lot of good unless you're willing to put an IOU in a Christmas card. Luckily you can find most of these products at your local Home Hardware. And seriously, if you can show me someone who wouldn't smile when unwrapping a ChiaPet, I'll wear that damned Princess Leia dog costume.
Every great product ever imagined is available online at Joseph Enterprises.