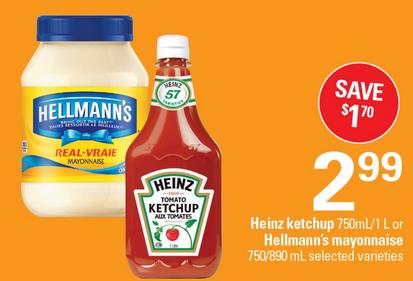 Here is a great deal on Hellmann's mayonnaise this week at Loblaws Ontario! Beginning September the 18th, Loblaws Ontario has Hellmann's mayo in the 750/890 ml sizes on sale for $2.99. Did you receive the September 6th edition of the RedPlum coupon insert, either with your flyers or your local newspaper? If you did receive that insert, inside there is a coupon for $2 off any Hellmann's mayo product, 890mls or more. Use this coupon if you have it, and pay just 99 cents for mayonnaise!
If you also happen to use any rebate apps, there is one that is currently offering $1 back on Hellmann's products, making the mayo free if you upload your receipt. Some of you reported getting an offer for $2 back on Hellmann's, in which case this offer would be a money maker.
If you are not near a Loblaws store, of course you can price match at Walmart, or anywhere else that you are able.
Click here to view this offer in the Loblaws Ontario flyer beginning September the 18th.