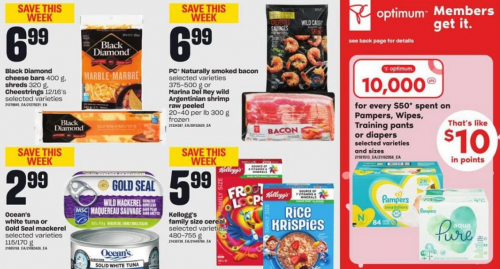 Loblaws Ontario give you plenty of opportunity to rack up the PC Optimum points each week with many in-store offers. There are all kinds of offers that start tomorrow in the flyer that is valid from January the 19th to the 25th. If you haven't yet done so, you can save four of your current personal PC Optimum offers for next week and you have until midnight to do this. If any of your offers match up with any in-store offers, you will receive both sets of points. Here are some of the advertised PC Optimum offers for the upcoming week:
No Name Bagels or Cream Cheese $1.99 Member Price
No Name Naturally Imperfect Frozen Fruit 2kg $12.99 Member Price
McCain Fries $2.29 Member Price
Covered Bridge Potato Chips or Popcorn $2.99 Member Price
Swiffer Dry or Wet Cloths or Dusters $5.49 Member Price
3,000 points for every $10 spent on Powerade or AHA
2,000 points on Farmer's Market Apples or Pazazz Apples 4lb Bag
8 inch Pies 2,000 PC Optimum Points
Farmer's Market Russet Potatoes 10lb Bag $3.99 + 1,000 PC Optimum Points
10,000 points for every $50 spent on Pampers Wipes, Training Pants, or Diapers
15,000 points for every $50 spent on Huggies Wipes, Training Pants, or Diapers, or Goodnites
Whiskas Cat Food $8.99 Member Price
Click here to view the Loblaws Ontario flyer.