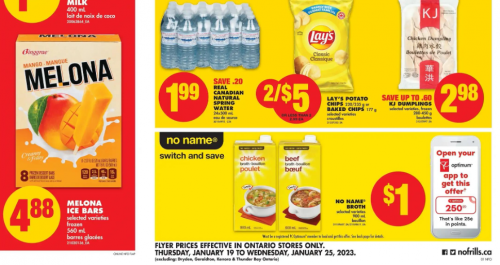 No Frills Ontario has a great deal on No Name that starts tomorrow! From January the 19th to the 25th, No Name broth is advertised for just $1. There will also be an offer in your PC Optimum app starting tomorrow, and you will earn 250 PC Optimum points for each No Name broth that you purchase. This makes each one just 75 cents so this is definitely time to stock up.
Here are some of the other advertised flyer deals for the week:
Chicken Drumsticks $1.99/lb
Green or Red Seedless Grapes $1.88/lb
No Name Bacon $3.99
Pineapple $1.99
Navel Oranges $1.69/lb
Chicken Thighs $3.99/lb
PC Smokies Smoked Sausage 1kg $9.99 Member Pricing
Country Harvest Bread or Bagels $2.88
No Name Naturally Imperfect Potatoes 15lbs $5
No Name Cream Cheese 2/$5
Dawn Liquid Dish Soap $2.19
Chipits $3.49 + 500 PC Optimum Points
Pringles Party Stacks $2.49 + 1000 PC Optimum Points
Danino Drinkable Yogurt 8's $3.33
AHA Sparkling Water $5.49 + 1000 PC Optimum Points
Click here to view the flyer that starts tomorrow.