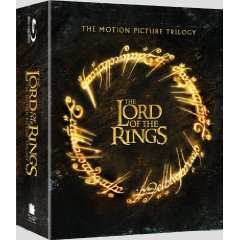 Lord of the Rings Trilogy on Blu-Ray is going to be released in early April, and the current pre-order price is $49.99 at Amazon. At Future Shop, it's going for $69.99. Considering the old DVD version was selling for $39.99 recently, $49.99 is not bad for the new high definition release. It will ship on April 6, 2010.
There's a slew of other new Blu-Ray releases coming up too, list available here.
One such release is Battlestar Galactica, the Complete Series, for $149.99 ($219.99 at Future Shop and Best Buy) on Blu-Ray.
Also, Bourne Identity, Bourne Ultimatum and Bourne Supremacy all for $19.99, in a useful format – both DVD and Blu-Ray versions on the same disc. So if you don't have a Blu-Ray player yet, you can watch the DVD format, but then you'll have the high-def version when you do have a Blu-Ray player. I wish more videos came out like this…