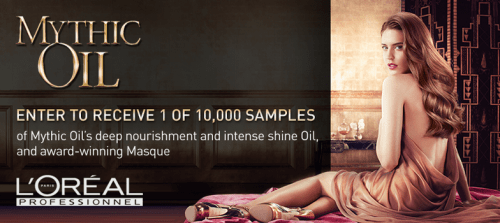 For a very limited time, you will be able to receive 1 of 10,000 FREE Mythic Oil samples from L'Oreal! Simply fill out this form on L'Oreal Professional's FaceBook to receive your samples of Mythic Oil's deep nourishment and intense shine oil, and award-winning Masque.
Also one lucky person will win a year's supply of the entire Mythic Oil Range!
The Mythic Oil Range contains award-winning legendary beauty secrets inspired by ancient Oriental traditions.
Mythic Oil Nourishing Oil:
Blend of avocado and grapeseed oils
adorns hair with radiance
Consumers vote Mythic Oil the best hair oil!
Mythic Oil Masque
An exquisite nourishing masque
Provides deep repair and gloving shine
Winner of the 2014 Elle International Beauty Award for Best Hair Masque in the World!
What are you waiting for? Submit this quick and simple form on L'Oreal's Facebook to receive your free Mythic Oil and Masque!