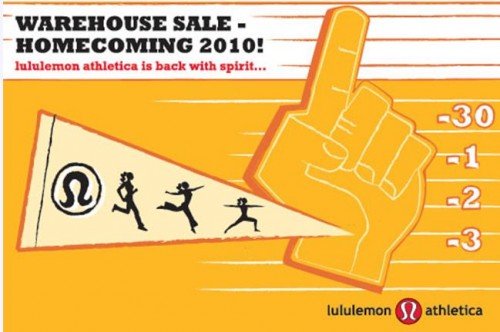 Yay! Lululemon is having another of their awesome warehouse sales this fall!  These have been extremely popular and well attended by Sc'ers in the past. Here are the details from the Event page on Facebook:
lululemon athletica is coming back to Hamilton!
Join us for the 2010 lululemon Warehouse Homecoming Party, from Thursday September 30th to Sunday October 3rd 2010, at the Hamilton Convention Centre.
Please note:
…*All sales are final
*There will be a men's and women's change room
*NO BAGS will be allowed into the sale and we will have a mandatory bag check
Methods of Payment:
*We will be accepting cash, debit and credit (Visa, Mastercard & American Express) – photo ID MUST accompany any credit card purchase
*No gift cards will be accepted
Hours of Operation:
Thursday 10am – 9pm
Friday 10am – 9pm
Saturday 9am – 7pm
Sunday 9am – 5pm
For more information about lululemon's Warehouse Party:
Look us up at http://www.lululemon.com/?cid=FBWHS
Facebook us at http://www.facebook.com/lululemon
Tweet us at http://www.twitter.com/lululemonWHS
Find us on Google Maps at http://bit.ly/lululemonWHSmap
Are you inspiring, athletic and goal-oriented? Are you available between September 29th and October 3rd, 2010? We're looking for amazing individuals to join our Warehouse Party team! Follow this link for more information: http://bit.ly/loveyourjobfair
 So mark your calendars Sc! This is sure to be HUGE again this year!
Thanks Couponlady I just noticed you also posted this on the forum! Great stuff!
*BUMPING*