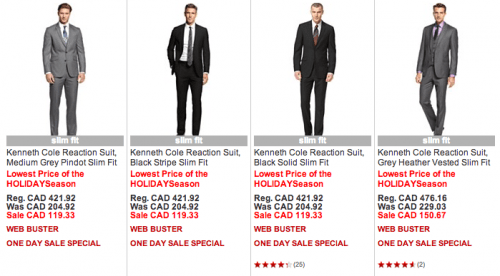 Macy's Canada is having a huge holiday special that privileges us to jaw-dropping savings on a wide variety of items in their online store. From women's and children's apparel, to men's suits and fancy socks; you can complete your wardrobe at Macy's with some amazing savings! Hurry, Macy's is only having this sale today only!!!
A few specials that caught my eye:
Kenneth Cole suits; savings of $300 and up!

20% off Kasper suits with Promo Code: KASPER
30% off Levi Jeans
Junior Clothing: Buy one, save 50% on 2nd item
Martha Stewart Bath Towels from $5.53-$8.43
Women's pull-over sweaters starting at $28
So much more!
If your order is over $120.55(Canadian), use the promo code TXTCLB for an extra 15% off!
Free shipping on orders $99+, until December 12th, 2013.
Macy's holiday sale is only on today, so be sure to check out Macy's.ca by clicking here to see all of their greatest deals!