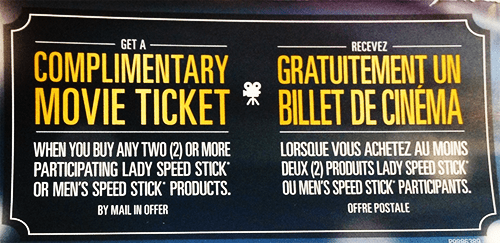 This offer is back again this year!  Buy two or more select SpeedStick products and get a complimentary movie ticket.
After the complaints they received last year about refusing rebates with coupons, they have specified no coupons on the new rebate.  The selected SpeedStick products must be bought on the same receipt and purchased between May 1 and July 31.
The rebate offer includes
Lady Speed Stick
Men's Speed Stick
Speed Stick Gear
There are select sizes (looks like all except the trial/travel sizes) and if you buy more than two, you still only get one movie ticket.
Rebate forms are starting to pop up in Walmart and Rexall but they were found in other stores last year too.