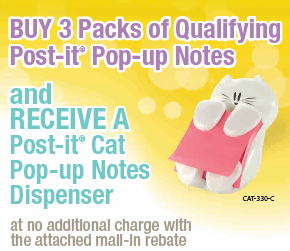 Office Plus has a new mail in rebate offer starting tomorrow.  Buy three packs of qualifying Post-It Pop Up Notes and receive a free cat themed Post-It Pop Up Notes dispenser.
This offer runs May 1-31 and must be postmarked by June 30th.  It looks like your dispenser will be sent by mail.  There is a limit of one offer per household.
Glad I saw this today, the order I was making for the office can wait until tomorrow now because I need one of these cute dispensers.
Click here to get your rebate form.