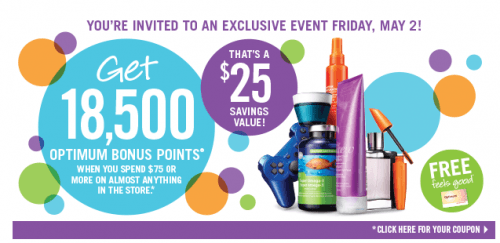 There is a printable coupon for 18,500 points when you spend $75 or more on almost anything in the store on Friday 2nd May.  If you do not have a big list of beauty and want some points, click here to print your coupon.
Points will be added by end of day on May 16th.
May is usually a lot of beauty events with Mother's Day, the Gala and people renewing their makeup for Spring so if you want a few extra for a redemption or there are items in the current flyer you want shop Friday.
For those in downtown areas of major centres (Toronto and Ottawa etc), check if your store honours both flyers on Friday afternoon.  It can really help you save money.