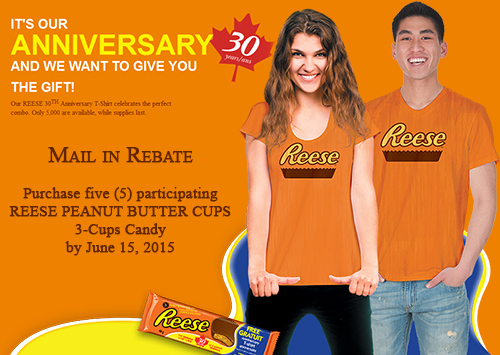 There is a rebate offer for a Reese t-shirt when you buy five participating Reese Peanut Butter Cups 3-packs by June 15th.
Purchase five (5) participating REESE PEANUT BUTTER CUPS 3-Cups Candy between December 8, 2014 and June 15, 2015.
Download the Official Order Form PDF, print the form and complete the necessary sections.
Mail the five (5) original UPC codes, along with the Official Order Form in an envelope with sufficient postage to: REESE 3-Cup Anniversary T-Shirt Offer, P.O. Box 9410, Don Mills, Ontario M3C 4C6. Request must be received no later than June 22, 2015.
Once verified, your REESE Anniversary T-shirt will be shipped within 6-8 weeks, but there is a limit of 5000 t-shirts.
You can choose between ladies' sizes medium or large, or men's large or extra large for your free t-shirt.  There are no children's sizes available.