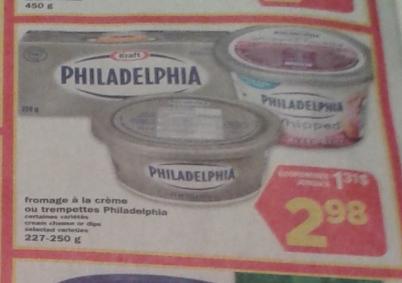 In the Maxi Quebec flyer beginning July the 31st, Philadelphia Cream Cheese is on sale for $2.98. This sale also includes the new 227g Whipped variety of cream cheese, available in Chive and Mixed Berry flavours. Previously there was a coupon for $2 off the purchase of Whipped Philadelphia Cream Cheese available through WebSaver.ca. If you did print and still have these coupons, use them during this sale and you will pay just 98 cents for the Whipped Philadelphia.
I have purchased the Chive flavour and really love this stuff so if you haven't tried it I highly recommend it! If you did not print the $2 coupon, there was also a $1 coupon available through WebSaver.ca or Kraft What's Cooking, although those are no longer available. There remains a coupon for $1 off the new Jalapeno Philadelphia trough the Kraft What's Cooking portal though, in case you wanted to print that one.
If you do not have a Maxi near you, Walmart has had a steady multi-buy price on Philadelphia Cream cheese. You can purchase it in multiples there at the price of 2/$6.
Click here to view the Maxi Quebec flyer beginning July the 31st.