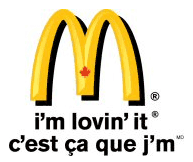 Last night I went to McDonald's to try their Mighty Ceasar with the 50% off coupon I found in my Lou Lou mag.  While there the manager let me keep the card and informed me there is also a printable version! Now this printable version expires on July 13th, a bit earlier then the hard copy but can definitely save you a few bucks!
I was rather impressed with the Mighty Caesar with the crispy chicken. Surprisingly the parmesan was actual cheese and there was enough salad to share with a friend. Taste wise, I wouldn't of guessed it to be from a fast food joint.  Two thumbs up on this one.
Click the coupon to print, and let me know what one you gobbled up! Alternatively click here for the forum discussion and coupon.
Thanks C_Mcarthur