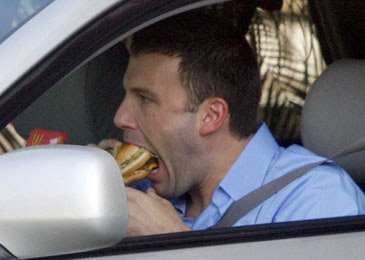 I seriously think I may have found my new favorite blog. Celebrities Eating is, as the name would suggest, a blog about celebrities eating. They collect ever picture they can of A-list stars and starlets shoving their faces full of food, and who can blame them? It's nice to know Nicole Richie, despite her blatant anorexia, can wolf down a twelve inch hot dog with the best of them.
This pic, from a post back in September 06, shows Ben Affleck wolfing down a Big Mac behind the wheel. Naughty naughty Mr. Affleck, you'll get mayo all over your blouse.
The one thing that really freaks me out is how wide he can open his mouth. It's like watching a snake eating a gopher.
McDonald's Mondays is a weekly series of posts written by our own Jim Squires that initially appears on his pop culture blog fjetsam.com.