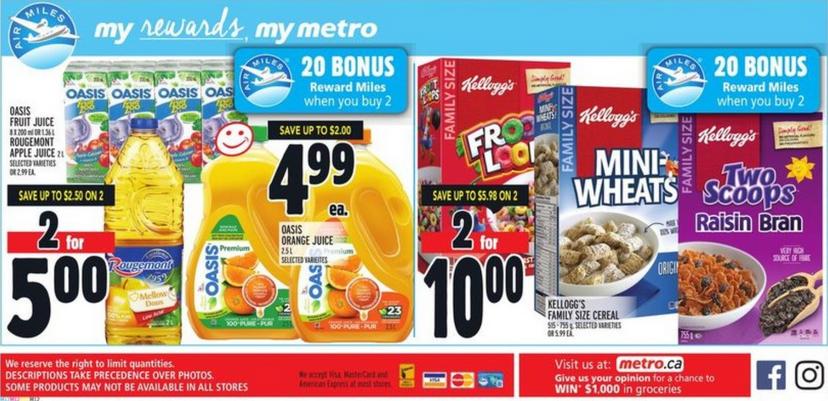 Gather up your coupons for Oasis juice boxes from the Allen's or Rougemont apple juice packaging, because you are going to want to use them at Metro Ontario this week. From August the 24th to the 30th, Metro Ontario has the Oasis fruit juice boxes on sale for 2/$5. Use your coupons for $1.50 off found on Allen's or Rougemont apple juice packaging, and pay just $1 each.
If you are an Air Miles collector, you can also scan your Air Miles card and you will receive 20 bonus Air Miles reward miles for every two packages of the juice boxes that you purchase. 20 Air Miles has a value of about $2 in cash miles, so this makes the juice boxes free when you use the coupons and factor in the Air Miles earned on your purchase. There is no limit to how many you may purchase and receive the bonus Air Miles.
If you do not have coupons for the Oasis juice, you can still find them on the 1L plastic containers of Allen's and Rougemont apple juice. The specially marked packaging has a red maple leaf in the right hand corner and says $1.50 on it. These cost about $1 to $1.50 at most stores, and there are $4.50 worth of coupons inside.
Click here to view this offer in the Metro Ontario flyer.