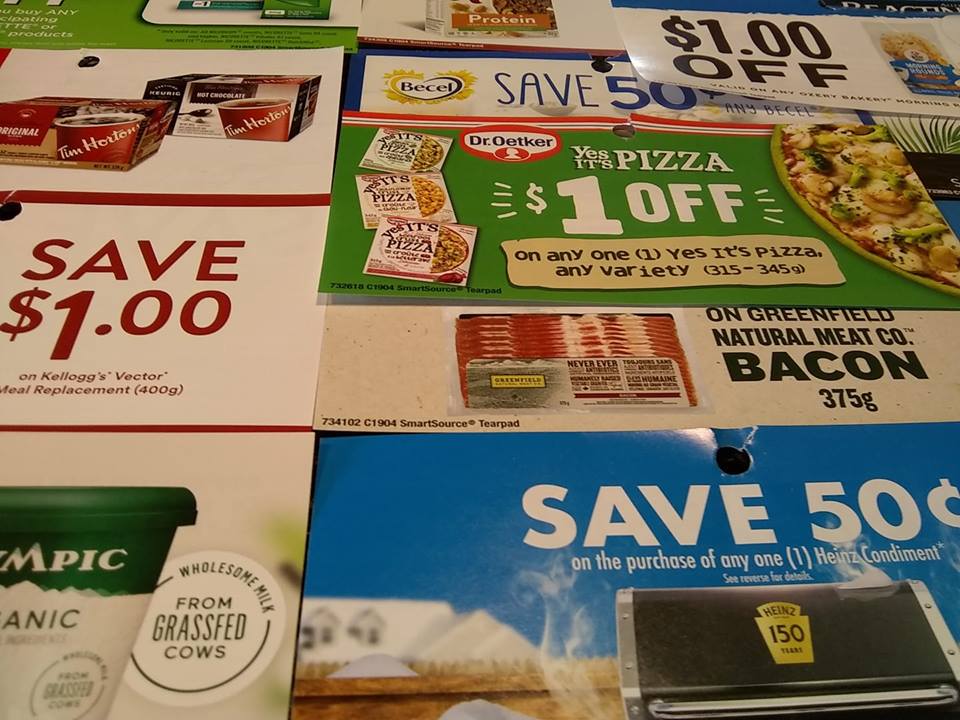 A new batch of SmartSource tear pad coupons for the month of April have now hit the stores. Your best bet for locating these coupons, is to check the coupon boards at various Loblaws banner stores, like Loblaws, Zehrs, Real Canadian Superstore, and Fortinos.  Here are a some of the coupons you should currently be available to find:
Save 50 cents on the purchase of any one Heinz condiment
Save 50 cents on Olympic Organic yogurt
Save $10 when you purchase any two Nicorette or Nicoderm products
Save 50 cents on any Becel product
Save $1 on any one Yes It's Pizza from Dr. Oetker
Save $2 on Greenfield Natural Meat Co. Bacon 375g
Save $5 on Aerius
Save $1.50 when you purchase 3 Oikos 4×100 products
Save $2 on Starbucks packaged coffees
Save $4 on Reactine
Save $1 on Kellogg's Special K Cereal
Save $1 on Ozery Baker Morning Rounds
Save $3 when you buy any two Tim Hortons 12ct coffee or 10ct hot chocolate pods\
Save $1 on Kellogg's Vector meal replacement
This is of course not a complete list as there are others you will find that will vary by store and by region.