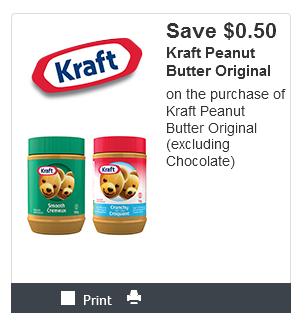 There are a couple of new coupon available through the Kraft Canada coupon portal today, and one of them is a fairly rare coupon for a staple that many of you should be happy about! Head over to the Kraft Canada coupon portal by clicking the link below where you will find the following two new coupons:
Save 50 cents on the purchase of Kraft Peanut Butter Original (excluding chocolate)
Save $2 when you purchase one Baker's product and one Cool Whip product
50 cents might not be huge savings for the peanut butter, but any coupon valid on regular Kraft peanut butter is definitely a great thing. The 1kg jar is $3.97 at Walmart Canada this week if you need it but hopefully there will be a better price in the upcoming flyer for next week to combine with this coupon.
Click here to print your coupons through the Kraft Canada coupon portal.