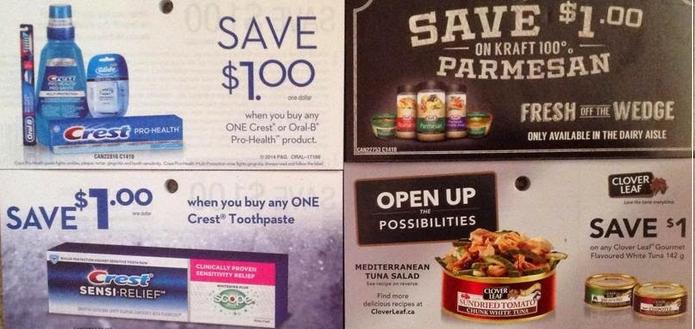 A new month usually means that new tear pad coupons are making the rounds across the country, and we have a look at some of these new coupons that you may find in your travels. Tear pad coupons are the coupons you typically find walking the aisles at your grocery store, so pay close attention when shopping. Be sure to check the front of the store as well. Some stores have coupons placed near the front on a board. Forum member McMinsen has reported spotting the following coupons recently:
-.75 off one (1) Minute Maid 10x200ml Juice product WUB1 Minute Maid 1.75L Chilled product #65314223, exp. Oct.31 '14
-$1.50 off Kellogg's To Go Breakfast Shakes Chocolate or Vanilla Flavour 4x296ml (1.18L) #71199681, exp. Jan.31 '15
-$2 off any one (1) Purina One dog food 2.7kg or larger #27677706, exp. March 31 '15
-FREE OneTouch Verio IQ Meter WUB 100 OneTouch Verio Test Strips, exp. Nov.30 '14
-$10 off any ONE Oral-B Professional Rechargeable Toothbrush #200687, exp. Nov.9 '14
-$1 off any ONE Crest or Oral-B 3D White product #200656, exp. Nov.9 '14
-$1 off any ONE Crest Toothpaste #200688, exp. Nov.9 '14
-$1 off any ONE Crest or Oral-B Pro-Health product #200686, exp. Nov.9 '14
-$4 off CanesOral or CanesOral Combi-Pak #07657841, exp. June 30 '15
-$1 off Always Discreet Liners, Pads OR Underwear incontinence product #200745, exp. Nov.30 '14

Forum member Mothu also posted about these new coupons:
-.50 off any one (1) Mott's Garden Cocktail (1.89L, 945ml, 6x240ml or 6x162ml Original Low Sodium) #22224910, exp. Feb.15 '15
-$1 off one (1) Kraft Grated Cheese 141g or 200g #05546305, exp. March 31 '15
-$1 off 4x100g Danette dairy dessert #29409828, exp. Dec.31 '14
-$1 off any Clover Leaf Gourmet Flavoured White Tuna 142g #25409635, exp. April 30 '15
I was lucky enough to spot some of these this morning at a Freshco in Hamilton Ontario. Have you seen any of these coupons yet, and where do you usually find tear pad coupons?
Click here to view the SmartCanucks Coupon Scan thread on our forum for more recent coupons.