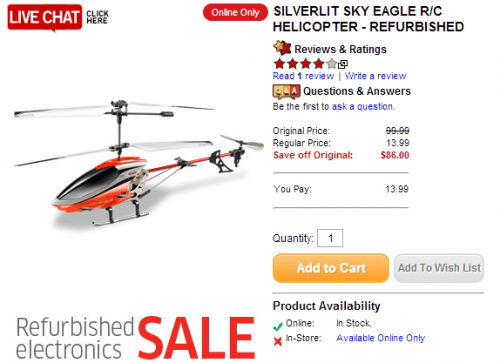 Check out this Refurbished Silverlit Sky Eagle Remote Control Helicopter from The Source Canada online for $13.99. This Helicopter is regularly $99.99 and I can just see how much fun it would be!
This Silverlit Sky Eagle Remote Control Helicopter has a blade span of 33 cm which makes it able to easily hover and go up or down with its blade system. The remote control will allow you to fly your new R/C Helicopter from quite the distance as well! It is also known to be easy to use/fly. If you have ever tried to fly a Remote Control helicopter you know that it is not so easy to control them!
If  you don't get your purchase total to $30 for FREE standard shipping, then the flat rate shipping fee is only $4.99. This offer is available online only.
Click here to check out this The Source Canada Deal!