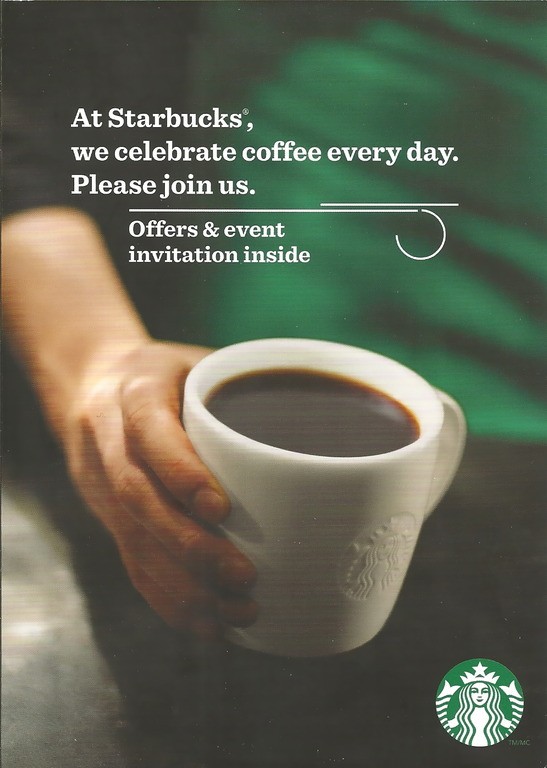 Thank you to SmartCanucks forum member McMinsen for letting us know about this offer! Click here to read McMinsen's forum post.
It looks like some brand new Starbucks Canada coupons and FREE Sample Events are on their way! You may be lucky enough to receive one of these awesome Starbucks Canada Coupon booklets in your mail. It is bulk mail, you do not have to be signed up. Forum members say you must live within a certain range of Starbucks to receive these coupon booklets.
Aside from possible regional differences, it looks like the coupon and free sample events included in the Starbucks Canada Coupon booklet are:
Starbucks Canada Free Sample Events:
Thursday March 27th, 2014 – Blonde Roast: True North Blend
Friday March 28th, 2014 – Medium Roast: Pike Place Roast
Saturday March 29th, 2014 – Dark Roast: Starbucks Tribute Blend
Sample the roast at your neighborhood Starbucks Canada location between 2 and 3pm local time on the specified day.
Starbucks Canada Coupons and Deals:
Save 25% Off Starbucks Whole Bean Coffee and Via from March 27th through to April 7th, 2014.
Enjoy the new Maple Macchiato (grande) for only $3
A grande True North Brewed Coffee and Breakfast Sandwich or Oatmeal for only $4
True North Brewed Coffee and a Cookie for only $3
Vanilla Latte or Mocha for only $3
The above Starbucks Canada coupons expire April 30th, 2014.
Click here to view the Starbucks Coupon and Free Sample Event booklet exclusively in the SmartCanucks forums.
Click here to get all Starbucks Canada online offers.