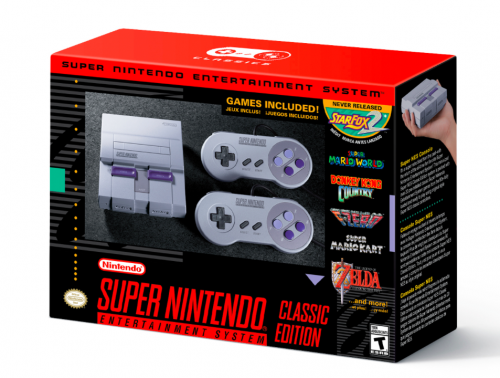 A miniature version of the 1990s Nintendo fan favourite – the Super NES Classic console – is going to be re-released this fall, said Nintendo, and will come with 21 pre-loaded retro games, including the never before released Star Fox 2.
The Super NES console is a follow-up to Nintendo's relaunching of the NES classic last year, which became so popular that it caught the entertainment system retailer off guard and led to the revamped retro systems being resold on sites like eBay for nearly double the retail value.
This iteration of the Super NES Classic, which is more compact than the 1991 version, will cost customers $99 CAD and will come pre-loaded with 21 retro classics, such as Super Mario Cart, Star Fox, Super Mario World and much, much more.
Gamers young or old, casual or dedicated who have either grown up with this system or aren't familiar with what continues to be ranked as one of the "greatest video game systems ever made" will be able to purchase the Super NES Classic starting on September 29 and can rest a little easier knowing that Nintendo has assured that they won't make the same mistake as last year and will supply more units to be shipped out until the end of the 2017 calendar year.
Here is the full line-up of games that will come pre-loaded onto the Super NES Classic console:
Contra III: The Alien Wars
Donkey Kong Country
EarthBound
Final Fantasy III
F-Zero
Kirby Super Star
Kirby's Dream Course
The Legend of Zelda: A Link to the Past
Mega Man X
Secret of Mana
Star Fox
Star Fox 2
Street Fighter II Turbo: Hyper Fighting
Super Castlevania IV
Super Ghouls 'n Ghosts
Super Mario Kart
Super Mario RPG: Legend of the Seven Stars
Super Mario World
Super Metroid
Super Punch-Out!!
Yoshi's Island
Click here to learn more about the Nintendo Super NES Classic console.