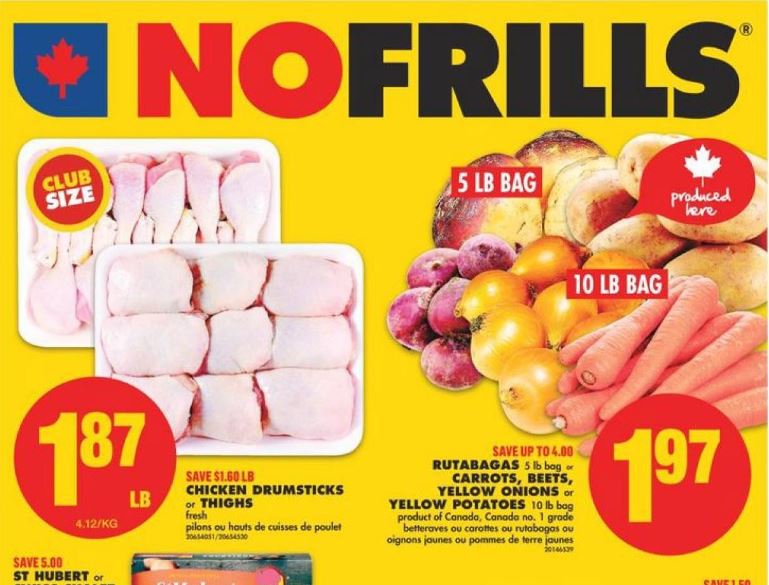 No Frills Ontario has some great deals and PC Optimum offers this week, and here is list of what you'll find in store from September the 17th to the 23rd:
Chicken Drumsticks or Thighs $1.87/lb
Rutabagas 5lbs, or Carrots, Beets, Yellow Onions or Potatoes 10lbs $1.97
St Huberts or Swiss Chalet Meat Pies $4.97
Campbell's Tomato, Mushroom, Chicken Noodle or Vegetable Soup 47 cents each
Royale Velour Bathroom Tissue 24=48 rolls $7.97 (PC Optimum Member Price) Purchase 3 for the Royale Promo!
Neilson Milk 4L, t 1000 PC Optimum Points
Italpasta 72 cents each
Squash 97 cents/lb
Wonder Bread 2/$4 (Use the printable buy one get one free coupon
Black Diamond Cheese Slices $3
Get 1500 PC Optimum Points when you spend $15 or more on fresh poultry in the meat department
No Name Broth 900ml $1
OxiClean Stain Remover Powder $3 (free with the $3 printable coupon!)
Colgate Premium Toothpaste or Manual Toothbrush $2.97 + 500 PC Optimum Points
Piller's Ham or Original Pepperoni $2 (Use the $1 printable coupon)
Neilson Chocolate Milk or Shakes $1
Tim Hortons Instant Coffee $4 + 750 PC Optimum Points
Click here to view the flyer on our forum.