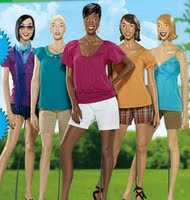 So, I don't know about the rest of you, but this week ONW hunt was crazy. I stayed up till 5am and nothing, then got up at 9am today and found out that it didn't update. So waited around with all the lovely Sc'ers in the chat room and it did update finally around 10:30am today (Friday) and all the good coupons were gone within seconds.
Here at the coupon locations for this week:
$75 off $100 – take the lipstick from the girl's pocket and put it on the girl to the left's lips. There were only 250 of these this week and they went super fast. (gone)
$50 off $100 – make the girl in the middle have the green shirt ond light pants, you have to click on the arrows to change her outfit. (gone)
$10 off $50 – click on the purple shirt of the girl farthest to the left.
20% off your purchase – Click the jeans a few times for 20% off when you buy women's jeans.
15% off your purchase – click on mobile and put in a name and US phone number (it will only accepts US numbers so use a US area code). Coupon will pop up after that is completed.
10% off your purchase (when you buy any mens item) – drag the orange lolly from the kid's bucket to the left lady's mouth
For more information, and to tune in week to week with all the other ONW SC'ers join us here.