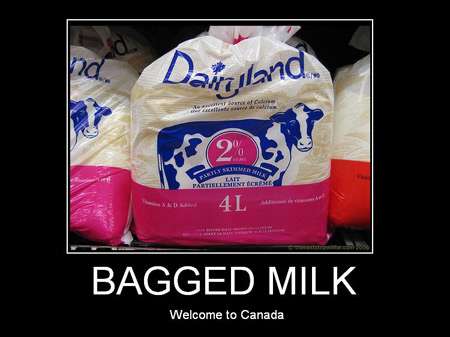 Earlier this year, MC over at Culture Kills amazed me with a little tidbit: bagged milk is a uniquely Canadian product!  Who would have imagined?
Outside of our borders, jugs of milk are the customary choice of many dairy consumers. Â  Otherwise the typical cardboard box that we also have available will usually make do.
Milk bags have several advantages over their jug-filled cousins:  smaller packages means less spoiled milk, the bags are recyclable, they use significantly less plastic than jugs, etc..  Outside of Canada, a few other countries that randomly dot the globe use milk bags as well: India, Poland, and Israel all prefer the milk bag.
For more on the subject, visit the post that enlightened me over at Culture Kills.