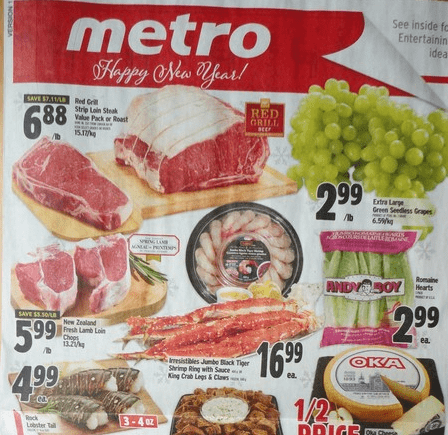 Many of the grocery flyers are shorter than usual as they know many of us will be busy Boxing Day shopping and feasting on holiday leftovers.  We have sneak peeks of several Ontario grocery store flyers.  Since the stores are closed on Friday, most start on Saturday and do not follow the usual date patterns, so double check if using them to price-match.
Food Basics Ontario flyer sneak peek
Pork combo chops (family pack) $2.49/lb
Philadelphia 400g, Cheez Whiz or Kraft Singles $2.97
Irresistibles orange juice 2.63L $2.88
Pepperidge Farm cookies & crackers $1.99
Xtra laundry detergent $1.99
FreshCo Ontario flyer sneak peek
Tostitos chips & dip $1.97
Coke/Pepsi 24pk $6.97
Jane's chicken $6.97
Barilla pasta or Ragu sauce $1.25
Soft Slice bread $1.99
Metro Ontario flyer sneak peek
Red Grill strip loin streaks $6.88/lb
OKA cheese 1/2 price
Quaker cereals 2 for $7 plus 5 Air Miles when you buy 2
Christie/Ritz crackers 3 for $5
Olymel bacon $3.99
A huge thank you to cyn88canada for these flyers and the many she has taken the time to upload this year!