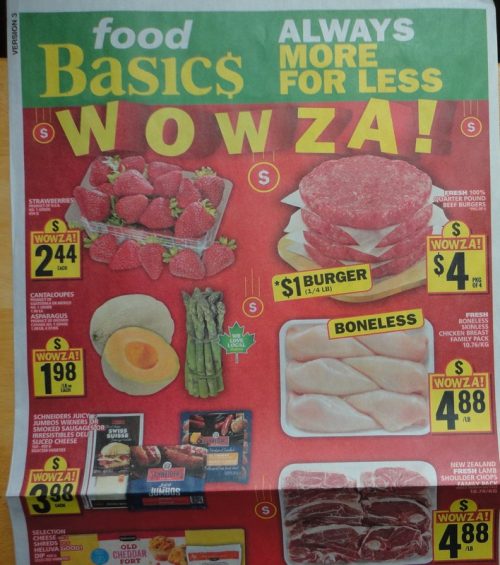 We have some flyer sneak peeks for you this afternoon. Click the links below and you can view the Freshco, Food Basics, and Metro Ontario flyers for the week of May the 18th to the 24th. Here are some of the highlights from each:
Click here for the Food Basics flyer.
Strawberries $2.44
Fresh Quarter Pound Beef Burgers $4 for 4
Boneless Skinless Chicken Breast $4.88/lb
Cantaloupes $1.98
Selection Cheese Bars or Shredded $3.98
Dare Cookies or Crackers $1.98
Silk Beverages $2.98
McCain Superfries $2.99
Click here for the Freshco flyer.
Chapman's Markdale Creamery or Canadian Collection $3.33
Coke or Pepsi 6pk $2.98
Armstrong Cheese Bars or Shredded $4.33
Pringles Super Stacks or Kellogg's Cheez-It Crackers $2.49
Lay's or Smartfood 2/$5.50
Dempster's Whole Grains Bread or Tortillas $2.99
Click here for the Metro flyer.
Selection Butter $4.99
Fresh Chicken Leg Quarters $1.88/lb
Pork Back Ribs $3.99/lb
Store Made Sausages Value Pack $4.44/lb
Kraft Singles $2.99
Orange, Yellow, or Red Sweet Peppers $1.99/lb
Cracker Barrel or Black Diamond Natural Cheese Slices $4.99