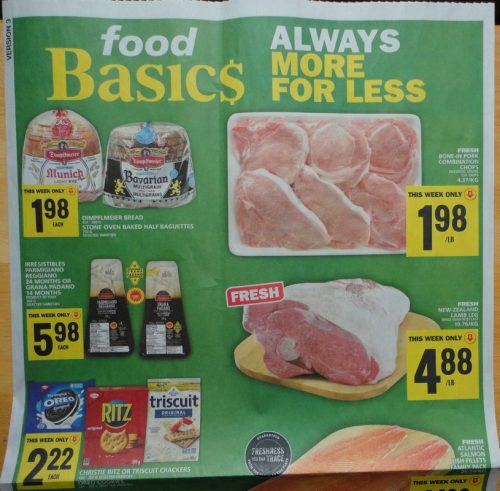 We have sneak peeks of some of the grocery flyers that begin on Thursday, and you can click the links below to view the Food Basics, Freshco, and No Frills Ontario flyers. These flyers are valid from March the 2nd to the 8th, and here are some of the items that are advertised:
Click here for the Food Basics flyer.
Bone-In Combination Pork Chops $1.98/lb
Christie Cookies or Crackers $2.22
Black Diamond Cheese Bars or Shredded $4.44
Red Price Apples or Bartlett Pears .98/lb
3pk Romaine Hearts $3.88
Dole Fruit Cups $1.99
Dawn Dish Soap $1.99
Click here for the Freshco flyer.
Primo Pasta $1 Member Price
Red Seedless Grapes $1.99/lb
Iceberg Lettuce $1.99
Celery $2.49
Hamburger Helper 3/$5
Click here for the No Frills flyer. 
Wonder Bread or Buns 2/$5
Yoplait Tubes or Minigo Yogurt $1.88
6pk Coke or Pepsi Products $2.99
Royale Bathroom Tissue 60 Rolls $11.99
PC Roast and Ground Coffee $9.99 Member Price
8lb Bag McIntosh Apples $4.99
2pk Romaine Hearts $1.99