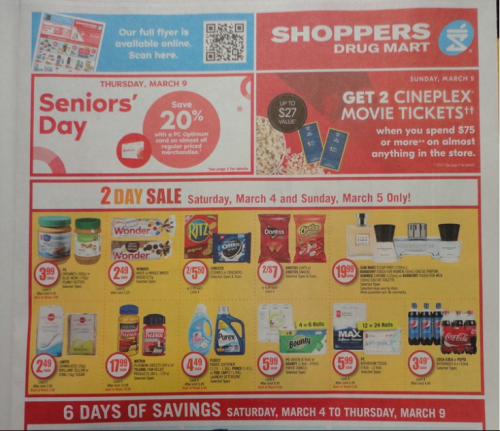 Shoppers Drug Mart Canada has a couple of promotion happening in their flyer that starts on Saturday, March the 4th. From March the 3rd to the 4th, you can earn 20,000 PC Optimum points with a spend offer that you will find in your app. There is no flyer in effect on March the 3rd, so keep that in mind if you are planning to shop.
On Sunday, March the 5th, get two Cineplex movie tickets when you spend $75 or more on nearly anything in the store. If you are doing this offer make sure to confirm that your store has the movie tickets available just before you make your purchase. It sometimes happens that they run out of movie tickets quickly.
There is a two-day sale on March 4th and 5th, and here are some of the included items:
Wonder Bread $2.49
Christie Cookies or Crackers 2/$5.50
Doritos or Cheetos 2/$7
Lantic Sugar $2.49
Purex or Fleecy $4.49
Bounty Paper Towels $5.99
6pk Coke or Pepsi $3.49
Dozen Eggs $3.29
No Name Butter $4.99
No Name Bacon $4.99
PC Frozen Fruit 2/$10
Click here to view the flyer on our forum.