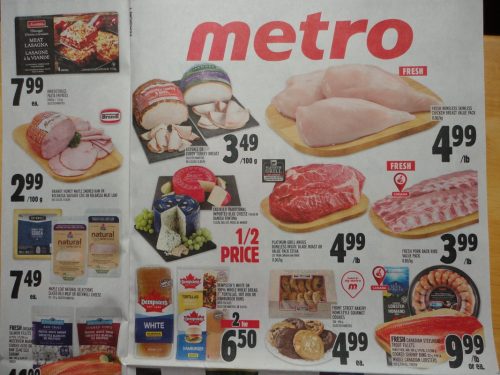 Here are a couple more flyer sneak peeks for you this afternoon! If you click the links below, you can take a look at both the Metro and Walmart Ontario flyers for the week of March the 2nd to the 8th. Here are some of the items on sale from each of these flyers starting Thursday:
Click here for the Metro flyer.
Activia Yogurt Tubs $3.49
Cracker Barrel or Black Diamond Natural Slices $3.99
Strawberries $2.44
Extra Large Beefsteak Tomatoes $1.29/lb
Boneless Skinless Chicken Breast $4.99/lb
McCain Superfries $2.99
Celery $2.99
Dempster's Signature Bagels $3.99
Coffeemate $4.99
Cheez-It Snap's or Cheez-It Family Size 2/$7
Click here for the Walmart flyer.
Wonder Bread or Dempster's Bread 2/$5.50
Sara Lee Little Bites 2/$7
Silk Beverages 2/$8
Primo Pasta or Pasta Sauce .97
Cashmere Bathroom Tissue 48 Rolls $10.97
Tide Simply Laundry Detergent 74 Loads $7.77
Blueberries $1.67
Maple Leaf Fresh Air-Chilled Chicken Drumsticks or Thighs $1.97/lb
Dial Body Wash $2.97
Dove or Nivea Body Wash $3.88